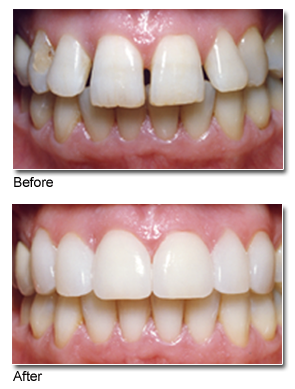 People with beautiful, healthy smiles enjoy flashing their pearly whites, but let's face it, not all of us have smiles we're proud to show off. For those with chipped, discolored or misaligned teeth, smiling can be an agonizing experience, both emotionally and physically.
Fortunately, cosmetic dentistry has come a long way, offering many ways to repair and improve your smile. One of the most popular dental procedures done in cosmetic dentistry are porcelain veneers, as they produce extremely natural looking results.
What are Porcelain Veneers?
Porcelain veneers are slender shells of porcelain that are bonded to your natural teeth, changing their appearance and providing beautiful, natural-looking results. Not only do they provide beautiful results, porcelain veneers provide strength and durability comparable to natural tooth enamel.
To apply the porcelain veneer, your dentist will remove a small amount of your tooth enamel, usually less than one millimeter. Next your dentist will take an impression of your tooth and your surrounding teeth and gums, and send it to a dental laboratory where your veneers are fabricated by a dental technician.
When your porcelain veneer is ready, you dentist will first need to evaluate how it fits your tooth. Once it's been perfected by your dentist, the veneer will be bonded with a light sensitive resin and then hardened with a special curing light.
Advantages of Veneers
Stain resistant to coffee, tea, soda and cigarette smoke
Mimics the light reflective properties of a natural tooth
Extremely durable and the strength is comparable to natural tooth enamel
The shape, size and color of porcelain veneers are all customizable
If taken care of properly, porcelain veneers can last up to 20 years
The procedure preserves more of the natural tooth structure
Provides fast and dramatic results
Disadvantages of Veneers
Once placed the colored cannot be changed
The natural tooth has to be altered
If the veneer breaks, the whole thing must be replaced
Temperature sensitivity for a few days after procedure
Are You an Ideal Candidate?
If your teeth are discolored, chipped, decayed or poorly shaped, you may be a good candidate for porcelain veneers. They can also be beneficial in situation where people have slight gaps, as well as minor crowding and bite-related issues.
If you end up being an ideal candidate, be sure to be a part of the design process. Let your dentist know your likes and dislikes about your teeth and what you're looking for in your new smile.
If you'd like to transform your smile with the help of porcelain veneers, contact Dr. Patrick Simone, DDS in Henderson, NV at 702-735-2755 to schedule a consultation today! Or visit www.patricksimonedds.com for additional information regarding cosmetic dentistry.
Dr. Patrick Simone proudly accepts patients from Henderson, Las Vegas, Silverado Ranch, Enterprise, Whitney, Spring Valley and all surrounding areas.