Dental Procedures
Dental Bonding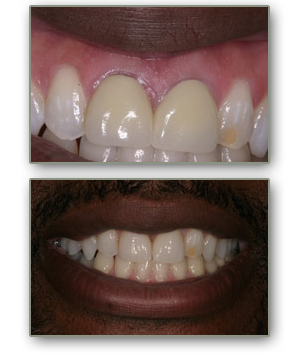 Bonding can be utilized to change the size or shape of your teeth, and to create a smile that appears more symmetrical and space-free. This single-visit procedure provides a fast solution for a more attractive smile and may eliminate the need for orthodontic treatment in some cases.
Tooth stains and discolorations that resist professional tooth-whitening procedures may also be masked by bonding. Although bonding may not be as long-lasting as porcelain veneers or crowns, it can last for a number of years with proper care.
Is bonding right for me?
Life-like aesthetic qualities.
The preservation of more natural tooth structure.
Optimal biocompatibility.
Minimal risk of allergic reaction.
No development of metal sensitivity.
What happens at the first appointment?
Bonding the front teeth typically requires one appointment. Dr. Simone may remove a very minor amount of tooth structure to maximize adhesion of the composite resin to the tooth. A tooth-conditioning agent may be applied to the prepared chipped, stained or worn teeth, which are repaired by the application of a composite resin-bonding material directly onto each tooth's surface. This less expensive procedure allows the dentist to restore or enhance your smile in a single visit.